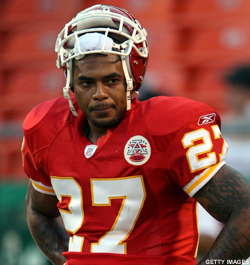 Twitter Should Be Respected
Here's a great lesson for anyone wondering if they should, or shouldn't, post something on Twitter – that even a pro running back from the NFL can get cut as a result of his tweets!
The Kansas City Chiefs have cut RB Larry Johnson, one day after his suspension ended.
The move comes two weeks after Johnson belittled coach Todd Haley in a series of Twitter posts and used gay slurs with reporters in the team's locker room.
From USA Today's The Huddle:
"A two-time Pro Bowler, Johnson was second on the team's all-time rushing list with 6,090 yards. A group of fans had petitioned the team last week not to allow Johnson to gain the 75 yards he needed break the team's rushing record.
The Chiefs suspended Johnson for detrimental conduct two weeks ago, then worked out a settlement in which he'd miss only one game check. He was not eligible for yesterday's 24-21 loss at Jacksonville."