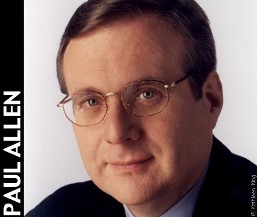 Paul Allen Diagnosed with Cancer
Microsoft Corp co-founder Paul Allen has been diagnosed with non-Hodgkin's lymphoma and has begun treatment, a spokesman for his investment company said on Monday.
Reuters News broke the story with this:
"Employees of Vulcan Inc, which Allen formed in 1986 to manage his business dealings and philanthropic activity, were informed of Allen's illness in a company e-mail on Monday.
"He's feeling pretty good, he's remaining very active at Vulcan and his other holdings and interests and he has no plans to cut back on any of that," said Vulcan spokesman David Postman.
Postman said Allen's diagnosis was recent and that treatment has already begun.
Allen, the 32nd richest person in the world according to Forbes magazine, co-founded Microsoft in 1975 with Bill Gates and resigned as an executive in 1983. He was diagnosed with Hodgkin's disease in 1983 but his cancer was successfully treated."