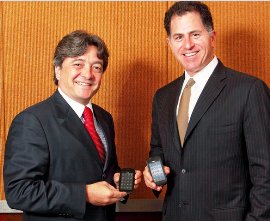 Dell Enters Mobile Phone Market
So you thought Dell with just all about selling PC's – well, think again!
Dell blogger Lionel Menchaca announced on Friday that, "Today, I get to put the all the rumors to rest—Dell confirmed that we're entering the smartphone business. These initial Mini 3 smartphones will roll out first in China and Brazil through partnerships with two of the world's largest mobile operators: China Mobile and Claro."
The Future of Mobile Phones
I see this move by Dell, traditionally a PC manufacturer, as a sign that the future of computing is wrapped up on mobile devices.
And even moreso, the new Dell 3 mini will be run on the Android 2.0 operating system.
Menchaca goes on to say "The other thing  can confirm is that the Mini 3 smartphones run Google's Android platform. I'm pumped like a lot of others out there about where Android is heading. With Android, we're designing these initial Mini 3 phones to provide power, flexibility and customization to both our customers and to carriers around the world."