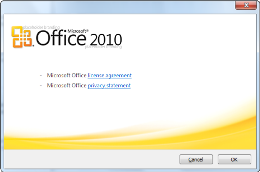 Microsoft Office 2010
As a parent, I tell my kids that "hate" is bad word!  Simply because it's such an aggressive word of deep frustration and… well… I don't know – it's just not a nice word!
It doesn't surprise me, however, that the word "hate" is being used in response to Microsoft Office 2010 leaked beta version.
Microsoft's Bad Run of Releases
It wasn't even a month ago where I was writing about people's response to Microsoft's Windows Mobile 6.5 launch.  The response to that was "it's terrible, and absolutely nothing has been updated!"
Now here we are again talking about another Microsoft product.  This time it's there flagship software Microsoft Office.
But the 2010 beta version has done anything but impress it's initial users.  Here's Randall Kennedy's response from InfoWorld.com:
"Office 2010 is clunky — that's the first word that comes to mind as I meander around the recently leaked official beta release (build 14.0.4514.1007, for those keeping score). The default color scheme is a ghastly gradient gray blur, while the new Outlook Scenic Ribbon toolbar is a disorganized mess.
But most important, Office 2010 is slow. The individual applications load like molasses on my Windows 7-based netbook, and common tasks — like checking for new mail across several hosted POP3 accounts — chew up way too many CPU cycles. I find myself closing Outlook 2010 in between e-mail checking sessions because it's simply too demanding to leave open all the time.
[ Read the InfoWorld Test Center's in-depth first look of Office 2010. ]
I never had this sort of problem with Outlook 2007. In fact, much of my frustration with the new suite revolves around Microsoft's stodgy old messaging client. Once again, Microsoft developers have moved stuff around, shifting the locations of common menu items and generally making me hunt around for what should be easily accessible tasks."