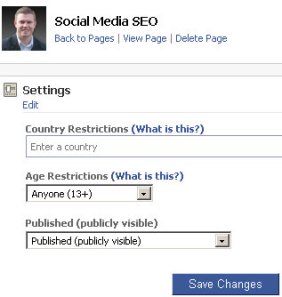 Facebook Fan Page Age Restrictions
Someone posted an interesting question the other day on our Facebook Fan Page.
He was not able to see his Facebook Fan Page when logged out of Facebook.
So if he was logged out of Facebook, and then entered the URL of his Facebook Fan Page, he was taken to the main login page for Facebook.
When the question was initially posted on our Fan Page, I thought the page might have been set to "private" – as opposed to be publicly published – However, that was not the case – the page was in fact published and public.
So then I told the Fan Page owner that the only way I was going to be able to see what's going on here is by physically looking at the settings.
After I was made an admin to the Page, I started my investigating.
2 Minutes Later
Yes – that's right!  It only took me about 2 minutes to discover what the problem was.
The problem was that the Page had been set to a certain age restriction, as opposed to the standard setting for Fan Page viewing with is Anyone(13+).
The setting I'm referring to:
You get to the setting above by click the "Edit Page" link underneath your Fan Page image, then clicking "edit" under "Settings" – you will then see this screen.
If you click the drop down window, you'll see all different types of Age Restrictions that can set.
By selecting anything other than the default selection "Anyone (13+)", you will lose the ability for anyone to see your Facebook Fan Page unless they are physically logged into Facebook.
Of course, if you're having this problem, and you want your Fan Page visible to everyone – logged in and not logged in – then you need to take your Age Restriction Settings back to default "Anyone(13+)".
Once you do that, then your Facebook Fan Page will be visible to everyone on the web!