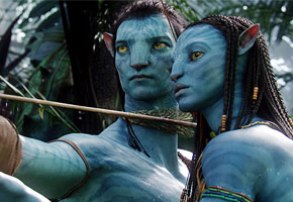 From Zap2It.com
The hype machine for James Cameron's "Avatar" is in full gear — with a live webcast on MTV the latest bit of promo push for hte movie.  The webcast, scheduled for Thursday (Dec. 3), will feature Zoe Saldana and Sam Worthington — who play the main characters Jake Sully and Neytiri — alongside Cameron and producer Jon Landau, according to Variety.
The half-hour event starts at 3 p.m. EST and will also be shown on the "Avatar" Facebook fan page.
Fans can submit questions during the event there or at MTV.com.  The flick is set to hit theaters and IMAX 3D on Dec. 18, but to get the hype at a fevered pitch, MTV will also air a TV special, part of MTV's "Behind the Screen" series, Dec. 16.
Read more: