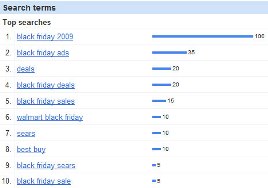 From Google Retail Blog:
Thanksgiving Day and Black Friday showed a strong surge in online shopping searches, with searches for "Black Friday" up by more than 20%, year over year. Searches for "black friday sales" and "black friday ads" were both up by more than 50%, year over year.
These notable increases indicate that consumers now expect to find the weekend's hot deals prominently listed online (as opposed to solely in newspaper circulars). Some of the fastest rising search terms were "Walmart Black Friday", "Kohls Black Friday Ad", "Sears Black Friday Sales" and "Target Black Friday Deals Online", as consumers planned their purchases, based on each store's specials.
 Google Search was also used to develop in-store shopping strategies, as "Walmart Black Friday Store Map" surfaced as a fastest rising term, blurring the lines between online and in-store shopping.
Read more:  http://googleretail.blogspot.com/2009/11/black-friday-searches-rise-20.html