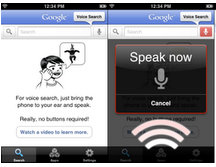 Google has always had an iPhone App that allowed voice recognition search.  However, it was a beta version.  And because the mobile world is something that we all are still trying to get used to, there was a lot of changes needed to make the Google Mobile iPhone App widely accepted, downloaded, and used.
Yesterday afternoon, Google announced that Apple has accepted their new Google Mobile iPhone App.  Here's more from their news release:
We have just received the good news that our new version of Google Mobile App for iPhone was approved and is now available on in the App Store everywhere.
In this version, we have a redesigned search results display that shows more results at once and, more importantly, opens web pages from the results within the app. This will get you to what you need faster, which is always our goal at Google.
For those less utilitarian and more flamboyant, we've exposed our visual tweaks settings called "Bells and Whistles" – some of our users had discovered this alreadyin previous versions. You can style your Google Mobile App in any shade: red, taupe, or even heliotrope. If you're on a faster iPhone, like the iPhone 3GS, you may want to try the live waveform setting which turns on, as the name suggests, a moving waveform when you search by voice.
On the subject of searching by voice, you can now choose your spoken language or accent. For example, if you're Australian but live in London, you can improve the recognition accuracy by selecting Australian in the Voice Search settings. And now both Mandarin and Japanese are supported languages as well.
If you don't have Google Mobile App yet, download it from the App Store or read more about it. If you have any suggestions or comments, feel free to join in on our support forums or suggest ideas in our Mobile Products Ideas page. You can also follow us on Twitter @googlemobileapp.