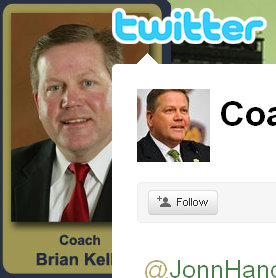 Apparently Brian Kelly, the new football coach for Notre Dame, is all about using Twitter.  Since being hired as the new coach, he's updated his Twitter profile with a new bio that reads:
"Thrilled to be the coach of the Notre Dame Fighting Irish. Committed to stirring People with PASSION and PURPOSE."
Brian Kelly currently has 9,253 fans, he is only following 65 people, and has only 38 tweets.  I'm sure however, that we'll see more from Coach Kelly as his popularity level has rocketed since the announcement of him being named Notre Dame's new football head coach.
You can follow Brian Kelly's Twitter profile here.