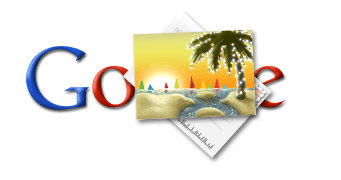 Google is wishing everyone a Happy Holidays with a custom logo!
It's an interesting logo in that it appears to be a palm tree at a beach decorated in Christmas lights.  And in the background, it almost looks as if sail boats are floating in the ocean.
So perhaps it's Google's beach version of a Happy Holiday's logo!
If you click on the custom logo, you are taken to a page that has "Happy Holidays" written in 9 different languages.  And then another Google logo that is linked to take you right back to the Google homepage.
The only part that's confusing me is the number listing (1, and then 2) – what exactly does that mean?  I'll try to learn more throughout the day and report back.