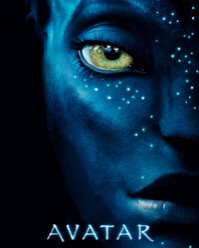 The hit movie Avatar, from Titanic's director James Cameron, opened in the United States this weekend and earned an estimated $73 million at the North American box office, distributor 20th Century Fox said on Sunday.
The movie industry had higher expectations for Avatar with sales forecasted to be  in the $85 million range.
However, the $73 million did exceed internal expectations according to some sources.
One of the biggest elements working against Avatar this weekend, according to 20th Century Fox, is the massive snow storms that hit the east coast of the United States.
Avatar's weekend sales ranked as only the sixth-biggest of the year in the United States and Canada.  The 2009 record was set last month by "The Twilight Saga: New Moon," with $143 million. The all-time record of $158 million was set last year by "The Dark Knight."
Ticket sales were also inflated for Avatar because of the premium prices that were charged for the 3-D version of the movie. According to Yahoo Movies, the 3-D sales accounted for 59 percent of the total cinema count and 71 percent of sales, Fox said.
The film also earned $159.2 million from 106 foreign markets.  This brings total global revenue for Avatar to $232.2 million dollars.  The film's production budget is said to be a whopping $300 million.