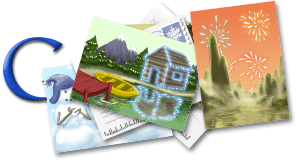 At about 12:10 am, Google continued it's 2009 Happy Holiday logos' series by adding what is definitely the most bizarre twist so far. Today's Google logo looks like it's actually celebrating the 4th of July – not Christmas!
Or… perhaps this is what's going on – and if someone knows for sure, please let me know – but perhaps Christmas is celebrated differently in different parts of the world and cultures.  Maybe Christmas is celebrated with fireworks somewhere in the world.  And maybe, just maybe, the themes (or backgrounds) on the postcards actually represent the region of the world that the celebration would actually be taken place in..?  Hmm….
I'm not sure about these things, but just speculating – again, if someone knows for sure, please let us know!
Here's the previous 3 days of Happy Holidays 2009 Google Logos:
Day 1 Holiday Google Logo: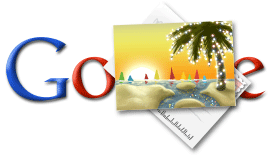 Day 2 Holiday Google Logo: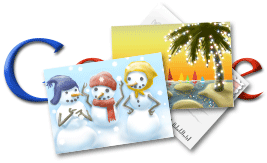 Day 3 Holiday Google Logo: