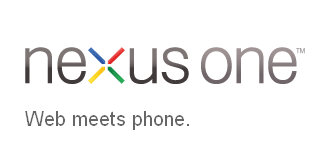 Google official announced the Google phone called Nexus One today.   Along with the announcement came the official website for you to purchase your phone, and check out all the cool features that Nexus One has to offer.
Here's the site >> http://www.google.com/phone
Buying The Nexus One Google Phone
As of right now, if you try to purchase the Nexus One you only have 2 options:
1) Buy it from T-Mobile for $179 and you must be eligible for service and accept a new two year contract to qualify for this pricing. Existing T-Mobile customers may qualify for upgrade pricing. Show more.
2) Buy the phone unlocked and just insert your current SIM card.  The cost for the unlocked version is $529.  This will allow you to use your current cell phone provider.
Both Verizon and Vodaphone are schedule to be available in Spring 2010.
Read more at the official Nexus One website here.