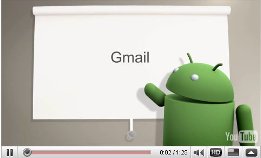 The web is on fire today with Google announcing their Nexus One Google Phone.  Google is positioning themselves in every way possible to dominate the mobile web.
Right along with the announcement of Nexus One, we are now seeing Google launch tutorials on how to use Google products on the Nexus One such as Gmail.
Here's more from the official Gmail blog on how to Gmail integrates nicely with the Nexus One Google phone:
Not only does the just-announced Nexus One have a beautiful display, snappy processor, and five megapixel camera complete with flash and geotagging, but you can also buy it online with or without a service plan. Plus, it runs Android 2.1, which adds a couple of new features to the native Gmail application:
Quick contact badge: Press the contact status icon within Gmail, and a handy box shows all of the ways you can reply to a contact — including email, chat, SMS, and Facebook.
Voice input: Swipe the keyboard, then just speak to select contacts or write an email, complete with punctuation. Period!
Nexus One also features the Gmail updates of Android 2.0, including:
Multiple Gmail accounts: Sync multiple accounts to the same device and switch between them without leaving the app.
Undo: A handy 'undo' link makes it easier to retrieve messages when you hit archive or delete by mistake. (Note: you can't yet undo send as you can with the desktop version of Gmail).
Here's a video from Google as well featuring Gmail on the Nexus One Google Phone: