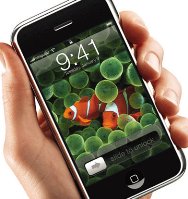 With the evolution of smartphones, it only makes sense that Google would make it easier for people browsing the web on their phones to connect to businesses.
And that's exactly what Google is introducing with their new feature called "Click To Call" for Google Adwords advertisers.
Google made the announcement to AdWords advertisers this week that it would display their business phone numbers in ads that show up on some smartphones—and then charge advertisers when users click on the number in order to call them.
SearchEngineLand—which first reported the news—says that Google will charge advertisers the same amount for a call as for a visit to their site (advertisers can opt-out).
On most smartphones, phone numbers typically can be touched (or "clicked") to initiate a telephone call. This "click to call" scenario already exists for Google organic local listings on smartphones. What Google is saying, simply, is that it will allow phone numbers to display in ads and will charge advertisers when calls are initiated accordingly.
This is a version, effectively, of "pay-per-phone call" but the cost per call is the same as a click — a bargain (generally speaking) for the advertisers to receive a "warm lead."