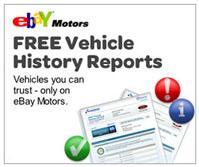 Did you know that eBay Motors is the number one automotive site on the web?
Did you also know that eBay Motors sells one passenger every minute?
That's right, eBay Motors is a HUGE online operation with over 10 million unique visitors each month.
And today eBay Motors announced they will be offering 100% free vehicle history reports for all used cars sold on the site.  The only criteria for the free vehicle history reports is that the vehicles must be sold in the US.
Here's more from the Ebay Partners Network blog:
Each vehicle report is scored between one and 100 in relation to vehicles of similar model, year and class, and also considers whether the car has been:
• Stolen, salvaged or rebuilt.
• Turned in under a lemon law.
• In a flood or hail storm.
• In an accident or fire.
• A victim of potential odometer rollback.
• Used as a rental or fleet vehicle, or as a police car or taxi.
Why It Matters
When a used car shopper is provided with a vehicle history report, they are 82% more confident in their purchase. With more than 81% of vehicle sales in the US comprised of used cars, the report is a significant tool in converting customers.