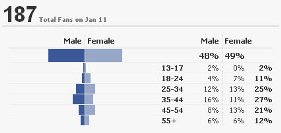 Having a Facebook Fan Page is a great way for anyone, and any business, to connect with a growing, high quality audience.  Fan Pages are quite possibly the greatest representation of "permission based" marketing available.
However, having a Facebook Fan Page is great, but what about measuring the performance, growth, and fan interaction?  That's where Facebook Fan Page Insights comes in.
Here's how to quickly access your Facebook Fan Page Insights:
Visit this URL >>
I would suggest you memorize the URL – it's pretty easy to remember actually.
Once you click the link above, you'll be taken to the insights overview dashboard where you'll see a list of all the pages you admin.
You'll also see a bold figure to the right – that's the number of fans that page currently has.
Simply click the "View Insights" link for your fan page and you'll then be taken to the main insights dashboard for that specific Facebook Fan Page.