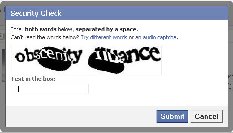 You know that annoying word verification that keeps popping whenever you add a link to your Facebook Fan Page updates?  Well, did you know that you can actually do something about it, and cause it to never show up again?  That's right, you can actually have freedom to just post your Facebook Fan Page update and have to post right to your wall – all in one fluid click!
In fact, I think there might actually be 2 ways to rid yourself of the dreadful word verification… but here's the first, and in my opinion the best, way to never have to enter a word verification again when sharing a link on your Facebook Fan Page.
Use Google's new URL shortener!
Apparently, Google has such a strong brand name and reputation that Facebook doesn't require word verification.  I've been using the Google URL shortener for well over a month now and I've never had to enter a word verification – as soon as I hit "Share", the content posts without hesitation.
However, when I use another URL shortener like bit.ly for example, I get the word verification everytime.
The other way to not have to enter a word verification (I think), is by verifying your mobile phone number… wait a minute – that's not right come to think of it.
I actually have my phone verified with SMS updates, yet I still need to enter the verification when I use a URL other than one that's been shortened by Google's URL shortener.
Read more about Google's URL shortener.