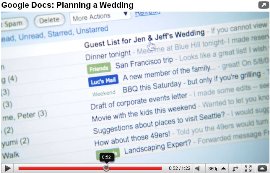 Google has etched its way into every aspect of our society.  From the Nexus One phone, Gmail, and YouTube, to Google Buzz, Blogger, and Picasa.  Today however, Google takes a leap into a more formal area of our lives, and this wedding planning via Google Docs.
Google announced their wedding planning templates today via the Google Docs blog:
"Today, I'm happy to share this knowledge in the form of over 20 wedding templates available in the Google Docs template gallery. These tools make it easy to estimate and track your wedding budget, collect addresses for invitations, compare vendors and much more."
What's cool about the Google Wedding Planner templates is that you now have pre-formatted, web based documents from which to chose that can make your wedding planning experience much more enjoyable.
Here's a video showing more the Google Wedding Planner templates: