Google Local Listings
Businesses can get free exposure in Google's search results by claiming their business in the Google Local Business Center.  Local listings are becoming very competitive and saturated, so anyway you can distinguish your business, the more you'll stand out.
Google's been testing what they call enhancements to the local listings.
These enhancements allow a business owner to add additional media that can point customers directly to photos, videos, website, coupons, directions, menu or reservations signup.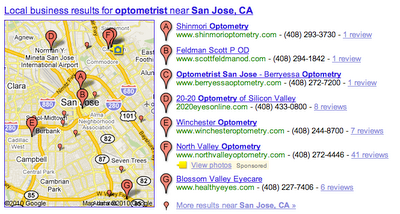 Here's more from Google:
"These enhanced listings allow business owners to highlight an aspect of their Local Business Center listing that they think best reflects what they have to offer their customers. The business owner can choose to enhance the way their listing appears in search results by including a link to point customers directly to photos, videos, website, coupons, directions, menu or reservations signup. Let's say a deli owner thinks the huge selection of imported cheeses really makes her deli stand out – she may want to give potential customers a quick way to see the menu on your website or a photo of your display case. Customers who access this relevant information can make an easier, more informed decision about which business to call or visit."