The AP has been doing something that I really like.  An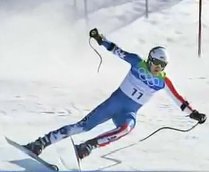 d that is, reporting the news in small video clips via YouTube.  For example, American skier Bode Miller won a silver medal in the Super G skiing event on Friday.  And the AP did a small video clip covering the news, and then sent the clip up to to YouTube.  The video is now one of the top viewed videos on YouTube.
Here's AP's Bode Miller Wins Super G Silver video:
You can follow the AP News Channel on YouTube here.