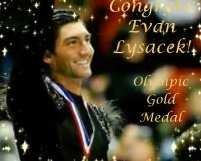 I'm not sure what's more amazing to me – Evan Lysacek's gold medal skating routine, or the fact that this video is still available on YouTube!  The IOC (International Olympic Committee) has been very aggressive about bringing down "event" videos from YouTube.  But Evan Lysacek's gold medal performance is still available (at as of right now).
Here's Evan Lysacek Gold Medal Skating Routine
From the YouTube information box:
With a beautifully-executed Olympic freeskate program, World Champion Evan Lysacek of the United States took home the first American gold medal in over 20 years! Here is his amazing freeskate from the 2009 World Championship set to Adam Lambert's "Time for Miracles." Congratulations, Evan!