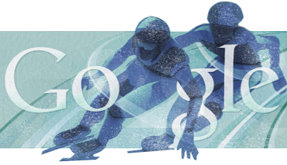 Today is February 26th, 2010.  Today is the 15th day of the 2010 Winter Olympic Games. The Closing Ceremonies of the Winter Olympics will be held on February 28, 2010 in Vancouver.
Google continues to celebrate the Winter Olympics with it's Google Olympic logo series.  Today, Google is featuring the sport of speed skating.
You can learn more about speed skating, get medal counts, and view schedules at the official Vancouver Winter Olympics website.
Here is today's Google Olympic Logo: