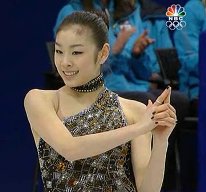 Kim Yu Na Wins Gold – Breaks World Record
South Korean figure skating Kim Yuna has won the gold medal at Vancouver 2010, while simultaneously setting a new world record with a score of 228.56 points.  There will not be a throne luxurious enough for her in South Korea, where they already call her "Queen Yuna".
In the gold medal performance of her life at the Winter Olympics last night she conquered the field with an amazing score of 228.56 points, followed by Japan's Mao Asada taking silver, and then in the bronze medal position Joannie Rochette of Canada.
Kim Yu Na Gold Medal & World Record Skate Performance {VIDEO}