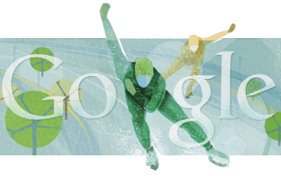 Today is February 27th, 2010 and it marks the 15th day of the 2010 Winter Olympic Games. The Closing Ceremonies of the Winter Olympics will be held tomorrow, February 28, 2010 in Vancouver.
Google continues to celebrate the Winter Olympics with it's Google Olympic logo series.  Today, Google is featuring the sport of speed skating.
Yesterday, I incorrectly labeled the Google Olympic logo by calling is "Speed Skating", whereas the correct term would have been "short track".
Today would be the more appropriate label of speed skating.
Also today, the Google logo has gone back to a much more colorful arrangement of greens, yellows, and blues.
Here's today Google Olympic Logo: