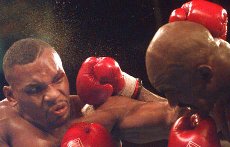 There is breaking news happening in the boxing world as we speak!  Mike Tyson might actually be heading back to the right to fight.  And let me give you 3 guesses as to who his opponent might be?
You guessed – Evander Holyfield!
Now wait a minute – isn't Mike Tyson 43 years old and Evander Holyfield 47 years old?  I think that's about right.  So why in the world would these guys want to be heading back into the ring?  I think that fight promoter Don King might have something to do with it.
The boxing website, Ringsidereport.com, quoting a source close to Tyson, reports that his, "former promoter Don King has a tentative deal for Tyson to return to the ring in late 2010. The initial plan is to have Tyson-Holyfield III, but there is rumoured hesitation on the part of Iron Mike, and there is a plan B".
The former world heavyweight champion, 43, retired in June 2005 after refusing to come out for round seven against the Irish journeyman Kevin McBride. The British heavyweights Danny Williams and Lennox Lewis had also knocked out Tyson in the closing stages of his turbulent career.
The 47-year-old Holyfield is due to fight the South African Frans Botha, 41, in Las Vegas on 17 April. He fought and beat Tyson twice, losing bits of his ear in the second bout. They spoke amicably when guests on Oprah Winfrey's TV show recently.