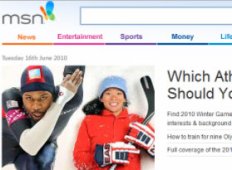 MSN's New Homepage
In an effort to compete with the likes of Yahoo and CNN, we are about to see a makeover happen to the MSN homepage.   Everyone these days – Google, Yahoo, Microsoft, etc… – are making changes to have more "social integration" from platforms such as Facebook and Twitter.  And MSN is about to jump on that bandwagon with their new homepage design.
MSN Homepage Demo
One of the things I already don't like about the new MSN homepage design is that I can't find a video the demo video to embed here in my blog.  I am forced to simply add the link (see below), and you are forced to click  on it and be taken to the demo site.
Why wouldn't Microsoft just release a video that people like me could easily share?
Apparently Microsoft doesn't believe in viral marketing, so they release a demo of the new MSN homepage via a traditional HTML site.
To make matters worse, you have to install Silverlight – Microsoft's terrible software for viewing flash type animation – in order to watch the demo as well.
Anyway – enough of my complaining.  Below is the demo for what will soon be the new MSN homepage:
(you have to click to view)