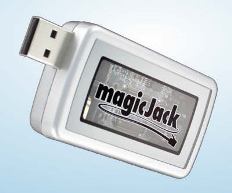 I'm sure you've heard of the Magic Jack by now right?  This is the device that you see advertised on TV that allows you to make phone calls through your Internet connection (otherwise known as VOIP).  You simply buy the Magic Jack device, plug it in to your computer via USB, then start making calls.
But is it really worth the $39.95 for the first year and then $19.95 for each year thereafter?
According to Consumer Reports, who had someone actually test the maximum capacity of the Magic Jack, the answer is a resounding yes!  Here's more from Consumer Reports:
The check
One of our electronics experts made dozens of calls over several days, sometimes while downloading files or playing online computer games.
Bottom line
Shazam! Calls connected, and voice quality was clear, though not as clear as on a good corded phone on a regular line. When our tester downloaded a big file while playing an online game and making a call, there was some interference. But if you can live with a few limitations, it's a great deal. Vonage VoIP service can cost $216 a year; Skype, $95, and you must buy a Skype phone.
Learn more at MagicJack.com