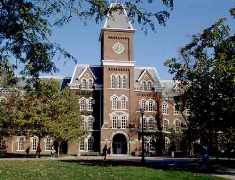 From The Wall Street Journal:
An Ohio State University employee shot two co-workers in a campus-maintenance building, killing one of them, and then fatally shot himself.
University Police Chief Paul Denton on Tuesday identified the suspect as 51-year-old Nathanial Brown, a custodial employee. Mr. Denton said Mr. Brown recently received a poor performance evaluation, but he declined to say if that was a motive for the shooting.
No students were hurt.
Mr. Denton said Mr. Brown was pronounced dead at Ohio State University Medical Center several hours after the shooting, which was first reported at 3:30 a.m. Tuesday.
One of the victims, 48-year-old building-services manager Larry Wallington, died at the scene. The other worker is hospitalized in stable condition.