How To Make Your Facebook Fan Page Viewable in Google
Google is the premier resource for driving high quality traffic to any website.  It doesn't matter what type of site you have, or what type of business, product, or service you're promoting, if you can get traffic from Google search, then you are probably doing better than 90% of your competition.
Exposing your Facebook Fan Page in Google
For the past year or so, Google has been crawling, indexing, and presenting Facebook Fan Pages in the natural Google search results.  However, the only page that has been accessible in the Google search has been the main URL of the Facebook Fan Page.
Last week, however, Facebook opened up access to the wall updates of Facebook Fan Pages.
This means your Facebook Fan Page wall updates are now being crawled, indexed, and are viewable in Google's natural search results.
Make Sure Your Fan Page Is Accessible to Google
There are settings in your Facebook Fan Page that can actually prevent you from having your Fan Page viewed and accessible to Google.  These settings can not only block Google, but can also prevent your Fan Page from being viewed by anyone except your Fan Page fans.
And  a lot of times, these settings are improperly configured without the Fan Page owner, or admins, knowing otherwise.  Which means, a lot of Facebook Fan Pages are basically invisible, and the page owners don't even realize it.
Here's the properly Facebook Fan Page settings to make sure your Fan Page is fully accessible, viewable, and available to Google, and to anyone who might want to visit your fan page!
1) Click "edit page" link directly underneath your Facebook Fan Page profile picture.
2) Go down to your "Settings" section and "edit"
3) Now make sure your settings are configured just like this: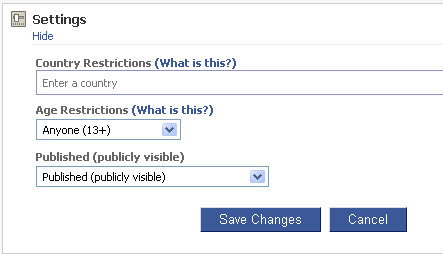 4) Once you have your settings configured just like they are above, go ahead and hit "Save Changes".
And that's it – your Facebook Fan Page will not start to be crawled, indexed, and available in Google search results.  Also, your Fan Page will be fully accessible to anyone who is trying to view it!