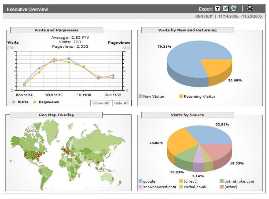 Google Analytics for Facebook Fan Pages
I have to give a serious shout out to the geeks over at WebDigi for put this amazing app together. I wrote yesterday about the Google Analytics for Facebook Fan Page tweek that WebDigi created and I set everything up yesterday.
Stats from my Facebook Fan Page are flowing into Google Analytics and it's amazing, to say the least!
I'm able to see all the traditionally valuable data that Analytics provides for a website, but now it's for my Facebook Fan Page:
* referral sources: this is even showing me keywords that people are using in Google to find my Facebook Fan Page.
* cities, states, countries: I can now see exactly where people are from that are hitting my Facebook Fan Page
* content: I have Analytics installed on my "Join" tab and on my "Wall"
* Now that I have Analytics installed to track visitors to my "Join" tab – which is set to be the default landing tab for new visitors and also has a powerful call to action to encourage people to become a fan – I can now start calculating fan conversion rates on my Facebook Fan Page – meaning, I can see how many unique times my "Join" tab was viewed and then track any many new fans my page received today – divide views by fans and now I have an official "fan conversion rate".
Plus, the Google Analytics for my Facebook Fan Page is now a powerful compliment to the already valuable "Facebook Insights" that are already provided to you by Facebook.
Wow – again… serious "thank you" to the WebDigi guys!
Self Hosted WordPress Blogs:
For those of you with self hosted WordPress blogs who want to host this application on your own servers – follow these steps:
For self hosted WordPress blogs, you can add this tool to your own server by doing the following:
1) Download and unzip the self hosted server file provided by WebDigi
2) Unzip the file once you've downloaded it
3) Upload the entire folder to "public_html" directory for your WordPress blog
4) You should now be able to find the tool at yourblogname.com/fbga-version1.1