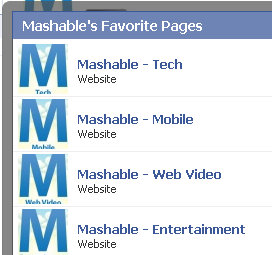 Mashable's Network of Facebook Fan Pages
My favorite blog in the world, Mashable, has taken their Facebook Fan Page presence to a whole new level.  They've created a Facebook Fan Page for each of their popular categories on their blog.  And the Fan Page network seems to be growing quite nicely with already a hundred of so fans per page.
An idea I have for Mashable's Fan Page navigation
The way Mashable has set up navigation to and from each of the Pages is by "favoriting" each of the other pages.
However, the problem is that only 6 of the 8 Fan Pages show in their "Favorite" section.
One idea to make it easy to promote each of the other 7 pages, and to make it easy for people to navigate to the other pages, is to create a custom navigation bar utilizing the Facebook FBML app.
An Example of a Facebook Fan Page Navigation Bar
Heres' an example of what I'm talking about – check out the navigation bar I created for our church that has 10 Facebook Fan Pages.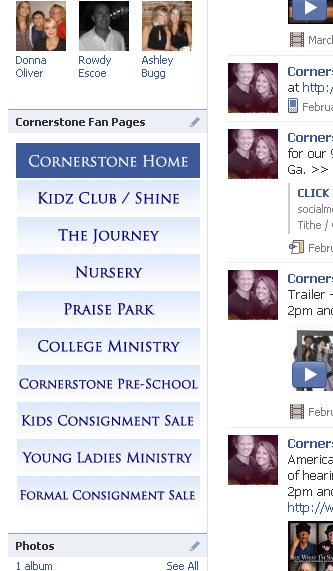 See the navigation bar in action by visiting the main Facebook Fan Page here,
You will also notice when you are on a specific page within the network, the banner in the navigation bar is dark blue.  This helps people know what page they are on at all times within the network.
Making A Website out of Facebook Fan Pages
I love what Mashable has done by creating multiple Facebook Fan Pages!
Creating a custom navigation bar for multiple Facebook Fan Pages is, in my opinion, leveraging the FBML app to create a sort of "website" environment directly within Facebook!
It's like having a website, with website type navigation, but all of the pages consist of Facebook Fan Pages.  And since it is actually within Facebook, you get all of the benefits of the viral exposure, sharing, and commenting that Facebook provides!