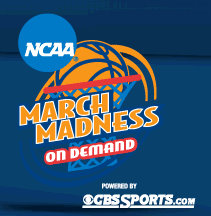 March Madness live stream sets a new precedence in delivering entertainment.
The popularity of MMOD – March Madness On Demand – website is setting a new trend in delivering entertainment to a massive viewing audience.
Mashable has just reported that, from the March Madness On Demand website, 3.4 million hours of video/audio were streamed online by three million unique visitors on day one.
Those staggering numbers mean that online viewership is already up 20% over last year's figures, and apparently a large majority of you have no problem watching from work. In fact, the always clever "Boss Button" — a one-click option to hide your guilty pleasure — has already received 1.7 million clicks.
So far the most-watched game via March Madness On Demand was Florida vs. BYU. The game — which BYU won in double-overtime — was streamed for a total of 521,000 hours across all online viewers. That's up 50% over last year's top-streamed game on day one.
This type of content delivery – web on demand – is clearly a popular channel for people to tune into.  And from the looks of things, with these types of numbers being posted, we could see more shows, events, and entertainment being delivers in this fashion.