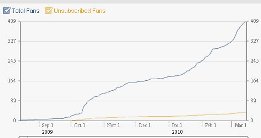 Weekly Facebook Fan Page Updates
I just received something the other that I've never seen before.  And it was a Weekly Facebook Fan Page Update email from Facebook giving me a breakdown of the my weekly stats for my Facebook Fan Page.  The email gave me stats such as "Fans this week", "Wall Posts, Comments, and Likes this week", and "Visits to your page this week".  All of the stats also included a comparison to the previous week.
My first question is – has anyone else been receiving these Weekly Facebook Fan Page Updates?
And my second question is – I'm admin for more than a dozen Fan Pages, but I only received the updates on a couple of the Pages.  So why the discrepency?
Why wouldn't I receive the updates on all of the Fan Pages that I admin and / or created.
Anyway, I plan on digging deeper into this to find out what exactly the Weekly Facebook Fan Page Updates are and I'll let you know!
If you have some feedback on these weekly updates, or if you've been receiving them for your own Facebook Fan Pages, then let us know in the comments!