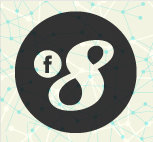 F8 Conference Tickets Still Available
Facebook announced via their Twitter profile that they have more tickets available for the f8 developers conference on April 21st, 2010 in San Francisco.
If you are a developer, or an entrepreneur interested in Facebook applications, then you might be interested in the F8 Conference.
What is F8?
From the F8 page on Facebook:
"f8 is a Facebook conference where developers and entrepreneurs collaborate on the future of personalized and social technologies.
At f8, members of the Facebook team and the developer community will explore a variety of topics including new tools and techniques, business growth strategies and open technologies. We hope you'll join us."