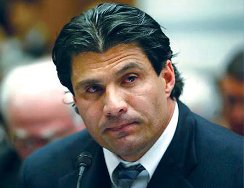 Jose Canseco Announced Subpoena via Twitter
The drama around Jose Canseco and 'steroids' seems to never go away.  I mean, here we are in 2010 still having to deal with the combination of Canseco and steroids in the news.  But this time it's regarding a subpoena by a grand jury investigating whether Roger Clemens lied to Congress when he denied using performance-enhancing drugs.
The Canseco message on Twitter
Jose Canseco posted on Twitter,  "Omg I just got a subpoena to testify before the grand jury about roger clemens,andrew pettite and others on Thursday april 8 2010 at 100 pm."
The fact that Canseco posted the exact time and date in which he is to appear will just about guarantee a media circus to follow Canseco straight to Washington DC.
Prosecutors have asked a federal grand jury in Washington to decide whether to indict Clemens for lying under oath to Congress in 2008 when the seven-time Cy Young Award winner denied using steroids or HGH.
According to the AP, Canseco said in a 2008 affidavit submitted to the same congressional committee that heard his former teammate's testimony, "I have never had a conversation with Clemens in which he expressed any interest in using steroids or human growth hormone…"  and that, "Clemens has never asked me to give him steroids or human growth hormone, and I have never seen Clemens use, possess or ask for steroids or human growth hormone."
Here's Canseco's actual Twitter message: