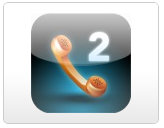 Line2 iPhone App was pulled by Toktumin after computer attacks, not Apple.
If you tried to find the Line2 App in the iTunes App store today, you probably discovered that you were out of luck.  However, contrary to popular belief, Apple was the not the reason for the Line2 App being pulled – that was a decision made by Toktumin themselves after a DDOS attack this morning.
According to Peter Sisson, the founder of Toktumi, Line2 recently came under a blistering denial-of-service attack, the same kind of crippling cyber scam that has brought down a handful of popular sites in the past.
Mr. Sisson told Henry McCracken of Technologizer that he made the executive decision to take Line2 offline – that way thousands of consumers won't have a bad first experience with the much-buzzed-about app.