Twitter's new homepage puts focus on content (tweets)
You may have noticed something different today when you visited Twitter – a newly designed homepage.
When Twitter first loaded, were you slight confused, thinking you typed in the wrong URL? Or did you think maybe another site loaded?
Here's a screenshot of Twitter's new homepage: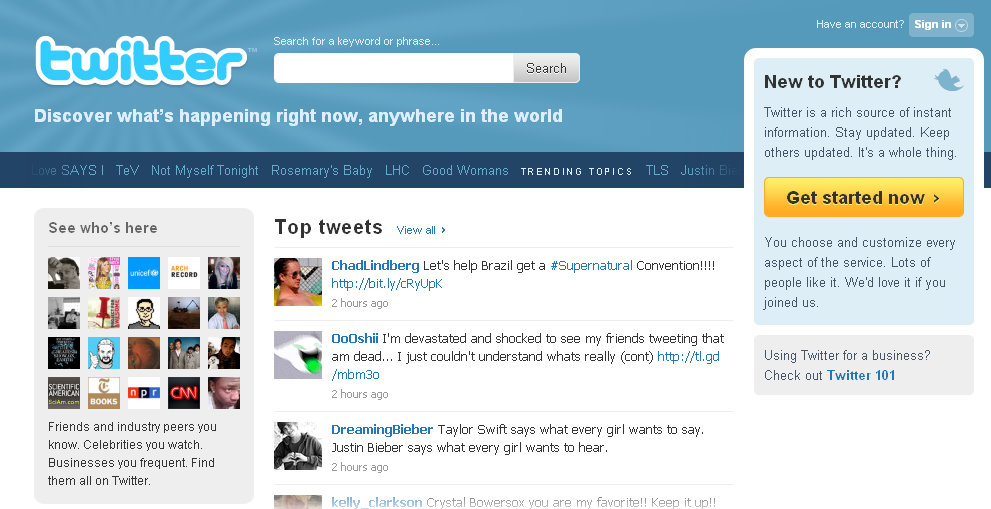 What I like the most:
To be completely honest, the part of Twitter's new homepage that I like the most is the Twitter 101 link on the right hand side.
I should say, I like the reference guide that the link points to.
Twitter 101 is a great guide for new users, and anyone who wants to learn more about Twitter.
Best of all, the guide comes directly from Twitter!
My second favorite element of Twitter's new homepage is the continually updating Twitter stream.
Having a continually updating stream on any site is great way to keep fresh content flowing, and it also helps to keep visitors engaged with the site.
What do you think?
So what do you think about Twitter's new homepage?
And have you had a chance to check out the Twitter 101 guide yet?