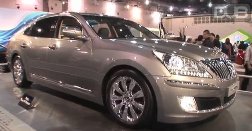 Hyundai is stirring things up a bit in the automotive industry by offering a free iPad to everyone who buys a brand new Hyundai.
At the New York Auto Show, Hyundai revealed what is their attempt at penetrating the luxury auto market by presenting The Equus. And when, or if, you buy the Equus, you get to read your owner's manual on a brand new iPad!
The Equus is Hyundai's strategy at competing with luxury auto-makers Lexus, Mercedes, and BMW. But as far as I know, Hyundai is the only one offering a brand new iPad along with the vehicle.
How much for the new Equus?
Pricing starts around $55,o00.
The iPad you receive with your new Hyundai will also be used to keep scheduled maintenance visits for your car.
This seems like a pretty good selling proposition to me.
Here's a video of The Equus at the New York Auto Show:
What do you think about Hyundai offering free iPads with the purchase of a new vehicle?