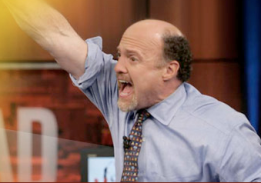 Money man Cramer says to "buy, buy, buy…" when talking about Apple stock!
Over the weekend, Apple sold 300,000 iPads!
Not bad for a Saturday product launch. Wait a minute… not bad! Are you kidding me! This beat out the iPhone on it's debut by over 60,000 units. And with the stock currently at $238, Cramer says regarding Apple stock, "it's time to buy, buy, buy…"
Here's Cramer talking about Apple stock:
Apple continues to show strength in Mac sales as well. And although we've seen a point or two decline in quarter iPhone sales, there is no doubt that the iPhone is still selling like crazy.
The next big anticipated move from Apple will the release of iPad 3G. However, we are still not quite sure on the exact date of the coming iPad 3G, only that it will be sometime toward the end of April.