Brooke Taflinger Exposes Swimming Coaches Who Molest Teens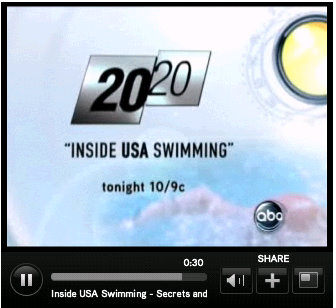 Very few sex scandals compare to something of this magnitude. Over 35 swimming coaches have been banned from the USA Swimming organization over the last 10 years because of sexual misconduct with teenagers they coached.
One coach in particular was exposed to the sexual misconduct by Brooke Taflinger.
The coach was Brian Hindson of Kokomo, IN, and he would secretly tape teenage girls he coached in two high school pool locker rooms, one in which he directed girls to a "special" shower room where he had a hidden camera inside a locker.
One of these girls was Brooke Taflinger.
"It was a sense of betrayal," Indiana swimming star Brooke Taflinger told ABC News chief investigative correspondent Brian Ross for a report to be broadcast Friday on "20/20."
Taflinger's parents later identified Brooke for the FBI as one of the girls who was taped naked in the locker and shower area.
"I gotta tell you, it hurt," Brooke's father, Bruce Taflinger, told "20/20." "My wife only had to look at one picture before she turned away in tears," he said.
Here's a preview of the 20/20 interview of the swimming coach scandals: