Kenny Chesney Talks About Living Life in a Box On Oprah (Video)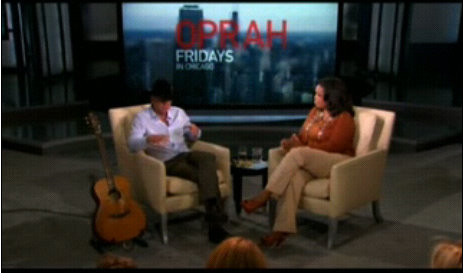 Kenny Chesney was on the Oprah show Friday and unfortunately for him, Oprah is extremely good at what she does.
So in typical Oprah style, she started digging deep on the country music star and started asking about why his marriage to Renee Zellweger lasted a mere 4 months.
He said, "that and the fact that I panicked." Then he started talking about "the box" in which he put everything he values, like his friends and musical success, and how he worked to "protect it… I protected that box."
So, Oprah asked, where was his marriage to Renee?
"Well, it was out.. out of the box!", he exclaimed with a maniacal laugh. But he did call Renee a "sweet soul."
Chesney then said he still hoped to be married, but "felt that the idea of marriage made me lose my identity… I just don't know that I've found anybody bigger than that."
Well, at least Kenny Chesney is honest.
And it sounds like there is just a bit too much selfishness inside the good ol' boy to really settle down with anyone for a successful marriage.
Not that I'm judging Kenny Chesney or anything – but you cannot live in a "this is my box and everything in it is mine" mentality and expect a marriage to work.
Thus, Kenny Chesney's marriage lasted a whoping 4 months!
Here's more from the Kenney Chesney interview with Oprah:
On why he's taking a break from touring: "I feel differently now, I promise. But there was something in the back of my mind that says, 'I don't know when, if ever, that I'll do this again' … Music's not supposed to be that way. Music's supposed to come from the heart. I felt like that if it ever got mechanical, I was going to back away from it. And it did last year."
On his split from actress Renee Zelweger after only four months of marriage: "I panicked about a lot. I look at my life as a box … So everything that I put in — learn how to play guitar, put that in the box. The friends I made, I put that in the box, and my career grew. Everything around me — all of the awards and all of the songs I wrote and all the success and everything — I put that in that box. That box built and grew into this wonderful house. And you protect everything and all the relationships and all the people that helped you build that house. And, this is the first time I've actually talked about it, but that's what happened. I protected that box. I didn't know if I could do both. [The marriage] was out of the box. But it's really tough. And she's a sweet soul, no doubt about it, but I just wasn't ready."
Watch the interview click at HuffingtonPost.com