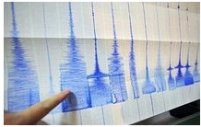 Solomon Islands: 7.1-Magnitude Earthquake Hits Solomon Islands
Solomon Islands 7.1 Magnitude Earthquake
A massive earthquake rocked the Solomon Islands today.
The US Geological Survey said the earthquake had a magnitude of 7.1 on the Richter Scale and that the quake hit soutwest of the Solomon Island chain's of Kira Kira Island in the South Pacific.
Solomon Islands Earthquake location
The earthquake's center was approximately 130 miles southeast of the Solomon Islands capital of Honiara.
The Pacific Tsunami Warning Center says a destructive wave is not expected. There were no immediate reports of damage or injuries.
Threat of a Tsunami
A powerful earthquake struck off the Solomon Islands on Sunday, but a monitoring agency said a tsunami was not expected.