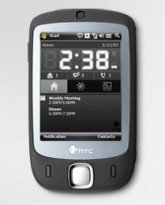 HTC Touch – The Most Popular HTC Mobile Phone
When it comes the world of mobile phone makers, one company could literally manufacture hundreds of different makes and models – Motorola comes to mind.
But in light of the upcoming HTC Incredible – or the Droid Incredible by HTC – release, I decided to go into the Google keyword tool to take a look at all the HTC manufactured phones to see which was the most popular, based on pure search volume.
So basically, I'm measuring "popularity" of the HTC mobile phone by the shear number of searches that are done each month – as the Google keyword tool provides (for free I might add).
To my surprise, after I ranked the search volume from highest to lowest for HTC mobile phones, I couldn't believe who was actually at the top as the most searched for HTC mobile phone.
The HTC Touch
The HTC Touch took the #1 spot quite easily, beating out all other HTC mobile phones by at least 5 million searches per day.
The HTC Touch is clearly a hot item when it comes to people turning to Google to search for it.
What I couldn't believe was that the HTC Touch is actually searched for over 9 million times a month.
That's over 300,000 times per day that the HTC Touch is searched for via Google.
And oh yeah, the HTC Incredible doesn't even show up on the ranking report – it must be too new for data to be showing.
Here's a screenshot of the HTC Hero search volume: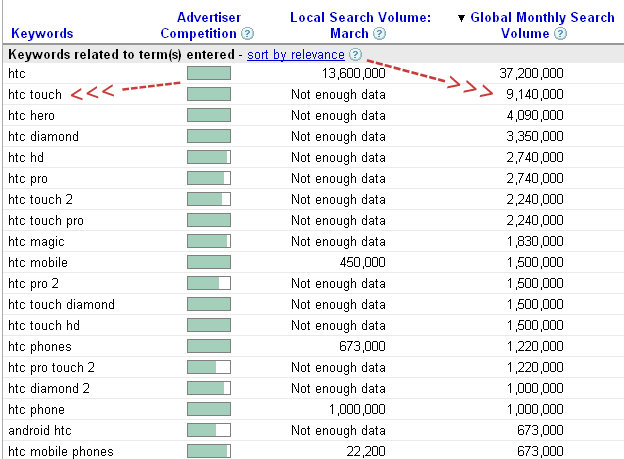 HTC Touch runs Windows Mobile
What was equally surprising to me was the fact that the HTC Touch runs on Windows Mobile 6 operating system.
Also, the HTC Touch runs on both CDMA and GSM which means the phone can pretty much be used on any carrier known to man.
HTC Touch search volume
So as you can see by looking at the screen shot above, the HTC Touch is a hot item on Google.
9.4 million searches for the HTC Touch per month is a lot of search volume.
In fact, the only other HTC related phrase getting more search volume than that is HTC (just the three letters) itself.
Read more about the HTC Touch here.