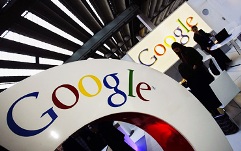 Google Earnings Announced Today – Investors Disappointed
From Jessica Guynn: LA Times
Google's first-quarter earnings and revenue topped some analyst estimates, signaling that consumer spending and online advertising are rebounding.
The company earned $1.96 billion, or $6.06 a share, in the quarter. A year earlier it had net income of $1.42 billion, or $4.49 a share.
Excluding certain items, Google said it earned $6.76 a share, beating the $6.60 average forecast by analysts polled by Thomson Reuters.
But Google shares fell in after-hours trading as the Internet giant failed to meet the "whisper number," the number that unofficially circulates on Wall Street before an earnings announcement. The stock slumped to about $577 a share after hours. It had risen $6.30 to $595.30 in regular trading.
Investors are also concerned about the rising regulatory and legal pressures on the company as well as intensified competition with onetime ally Apple Inc.
Shares of Google had risen about 5% since Monday.