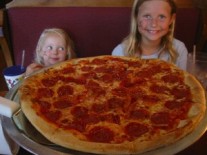 Tax Day Freebies 2010 – Your Complete Guide
April 15th doesn't need to be such a stressed filled day!
Yes, we all know that you need to have your taxes in the mail today, but there are a lot reasons to be excited about getting out and around town today as well.
How about all of the tax day freebies you can take advantage of?
Tax Day Freebies 2010 – Your Complete Guide
Here's a comprehensive list of tax day freebies that you can find in your town:
Starbucks . Here's a tax day freebie that is also good for the environment. If you bring a reusable mug to any Starbucks on April 15th, they will fill it with a free cup of coffee.
P.F. Chang's. The China bistro is giving all customers a 15% discount on their entire food order on April 15th. No coupons needed- just show up or place your order online.
Cinnabon . The Cinnabon chain is offering free "Tax Day Bites". From 6:00 p.m. to 8:00 p.m. on April 15th, customers will receive two mini cupcakes. These look good!
Maggie Moo's. On April 15th, customers at participating locations of the Maggie Moo's ice cream chain will receive a free sample of their new "MaggieMia's Ice Cream Pizza" from 3:00 p.m. to 7:00 p.m.
Boston Market. This deal is good from April 15th to April 18th. But one plate of food and get one free with this coupon.
Also, April 15th is the day to check local eateries , pizza shops and stores for tax day deals. Some locations of
McDonald's , Chick Fil A, Dunkin Donuts and Subway may be offering buy one-get one free deals. Local shops and boutiques may also be offering tax day discounts. It may be worthwhile to call local businesses before you head out today.
Of course, while all this free food sounds good, if you haven't filed your taxes yet make sure you do that before midnight tonight.
Sources:
Associated Content