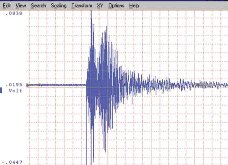 Utah Earthquake – 4.9 Magnitude Earthquake felt in Utah
Reports have been flooding the web with reports of an earthquake that has occurred in Utah.
Tonight (Thursday, April 15th), an earthquake with a 4.9 magnitude is being reported in Utah. No injuries are currently being reported.
If in fact a 4.9 earthquake occurred in Utah, then it will be the largest earthquake in Utah since 1992 when a 5.9 magnitude earthquake hit the Saint George area.
Reportedly the quake was felt around 5:59 PM.  Other states to feel the rattling from today's earthquake included Wyoming and Idaho.  The United States Geological Survey Website had over 1,400 people claim they felt the quake in areas such as Salt Lake City, as well as Jackson, Wyoming and Pocatello, Idaho.
I'll share more information and / or videos on the Utah earthquake as they hit the web.