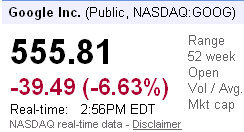 NASDAQ:GOOG – Google Stock Price Down -39.13 (-6.57%)
Google Earnings Report
After Google earnings reported yesterday, Google share prices fell Friday morning after the search giant reported first-quarter results that didn't impress investors one bit.
Although Google reported numbers that actually beat analyst predictions, Google stock price fell $28.30, or diving 4.8%, to $567 in pre-market trading.
With Google stock price hitting $567, the stock price diverted back to where it was a week ago.
Google's earnings rose 37 percent and revenue surged 23 percent – which was only slightly ahead of analysts' published expectations.
And despite the good numbers for quarter, as I stated already, the stock dipped nearly 5%.
Google Stock Analyst Predictions:
Youssef H. Squali at Jefferies & Co. said the dip in the stock is a buying opportunity, "as we believe Google remains the best play on the online ad recovery." He maintained a "Buy" rating and raised his price target to $710 from $695.
Aaron Kessler at Kaufman Bros. trimmed his price target to $725 from $740 because of higher research-and-design and sales-and-marketing expenses. He also trimmed earnings estimates for this year and the next by about 1 percent.