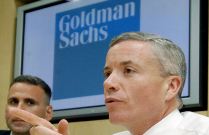 NYSE:GS Goldman Sachs Fraud Coverage Tonight on CNBC
Fraud on the Street?: The Case Against Goldman Sachs
Tune in tonight at 7pET for CNBC's Special Report … Fraud on the Street?: The Case Against Goldman Sachs
In the wake of a massive blow from the SEC with the accusations of fraud, Goldman Sachs stock price (NYSE:GS) is down -24.03 (-13.04%) – the stock price just broke the 13% down mark.
According to CNBC,
Wall Street giant Goldman Sachs was accused of securities fraud for allegedly failing to disclose conflicts of interest in subprime mortgage securities it sold to investors, who ultimately lost more than $1 billion.
The Securities and Exchange Commission said in a civil complaint Friday that Goldman failed to disclose that one of its clients—a hedge fund run by billionaire John Paulson—helped create, and then bet against, the subprime mortgage securities.
Tonight on CNBC @ 7:00 PM
CNBC Special Report: Fraud on the Street? The Case Against Goldman Sachs