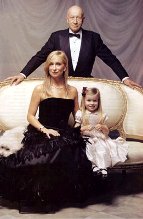 Socialite Sonja Morgan Sued, Real 'Dead Beat' of New York
The former wife of J.P. Morgan's great-grandson, and self proclaimed socialite of the upper east side of New York City, is actually a dead beat in most people's eyes.
Sonja Morgan is the newest edition to the tv show Real Housewives of New York City.
However, according to The New York Post, Sonja Morgan had agreed to finance a motion picture but decided to back out at the last minute – after Hannibal Pictures had lined everything up for the film.
In September, a federal jury in California awarded the West Hollywood-based production company $7.06 million in damages.
But the firm is still chasing her for the money and last week went after her assets in Manhattan Supreme Court.
So perhaps Sonja Morgan is showing up on Real Housewives of New York City to help pay for some of the damage that she has left behind.
And despite the intrigue that is given from the tv show, apparently Sonja Morgan is not very well liked around the New York City scene.